I checked the headlines today at AlJazeera which is a very prominent news channel in the world, gulf news which is my personal favourite, E! Online which focuses on entertainment and Haveeru which is one of the most prominent news papers in the Maldives.
Al Jazeera - 'Glimpse of Syria's Qubayr massacre' 
This article describes the horrors which took place in a small town in Syria by whom the government claims to be a terrorist group. This massacre took place only weeks after Houla massacre where the residents of the whole village were brutally murdered in different forms too. This is so horrible to read and to even believe. When news media started writing and reporting about the atrocities being committed in Syria I did not believe them. I thought that the crimes were too terrible for anyone to commit. One day I opened my facebook account and on the home page there was a picture of what looked like tiny white sacks left on the ground, arranged neatly in rows. There was a caption saying that they were tiny bodies of children who were murdered. A part of me still wants to not acknowledge it. Because it is too heinous for human lives to be treated in that horrible a manner.  I wonder when they will publish that the situation has changed and the people of Syria are safe. I wonder how many more lives will be taken before that..
Gulf News - 'Bomb targeting government bus in Pakistan kills 18'
Another horror story. These days news seem to be a never ending array of crimes ranging from mass murder to rape. I think the headline says it all in this news article. Apparently these attacks have been happening in the same town for five years. Now it has declined and infrequent. If this is something to be thankful for I do not know what the world is turning into.
Gulf News - Codes reveal gender of unborn baby in illegal tests
Since mass murder has been covered on different scales in the previous two stories (that has happened on the same day) there should also be yet another kind of murder. This article's headline maybe innocent enough. What it does not tell is that the conscienceless doctors use codes (like pictures of barbie for a girl) to inform parents about the unborn baby's gender. Once it is known most female fetuses are aborted leading to mass female foeticide. It is a a horrendous crime that Indian authorities have been trying hard to stop. 
Haveeru Online - Arham was victim of a revenge attack over two gang rivalry: Police
A sixteen year old with no crime record was found murdered in a park in Male', the capital city of Maldives. Gang crimes and drugs are common place in Maldives now and it is frightening how many murders are taking place these days. 
That quite honestly is enough crime for one day. Focusing on smaller things like sports and celebrities is way better.
Al Jazeera Sports - Racist chants reported ahead of Euros
Apparently there are fears that racism will over shadow the Euro tournament. I am tired now of all these bad things happening in the world. We are all human. Regardless of our colour, features, sexuality, nationality, religion and everything else. If I want people to not be racist towards me I should not be racist towards anyone else. It's hypocritical of most people when they accuse the other party of being racist towards them while they themselves are being racist. 
E!Online - Miley Cyrus Too Young? Five Reasons Child Stars Marry Even Younger
It seems that every area of the news today are focusing on the deeper and more morbid aspects of the stories. Well, Miley Cyrus got engaged to Liam Hemsworth. I watched Hannah Montana a few years back. I loved the cast, especially Miley and Lily. I have also followed celebrity news for quite a while and found that they have always been a little too harsh on Miley. It does not matter what she does or who she does it with, the news stories that come out are always overblown. It could be that she wore a daring dress or that her movie did not do well. But then again I guess that is what news media is about sometimes.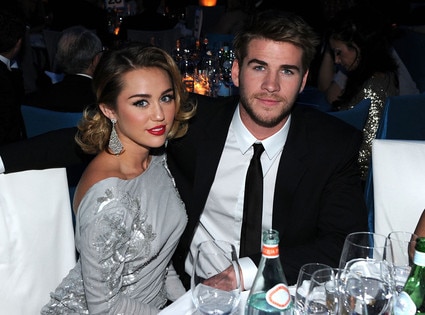 Since I seem to find it impossible to find some lighthearted news today I will stop reading them now and try my luck tomorrow. Let's hope that tomorrow brings happier news ant inspirational stories.